Feature film | Documentary
"Generous, versatile and efficient, Richard contributes regularly to our productions. His involvement always results in a high quality work. With him, there are only solutions."
Martin Ulrich,
"Richard Duquette is an audacious, working cinematographer and who is not afraid of taking risks. He is an exemplary collaborator always giving his 200 % for exceptional results. Its implication and commitment in a project goes beyond the image and that's why I count on him for the success of my movies."
Patricia Chica,
"this time around, the atmosphere is much more developed, with colour and imagery akin to watching a living painting - Serpent's Lullaby"
Tomer Shavit - CultMTL
"Excellent - Doesn't get any better"
Danny Rosser
"Serpent's Lullaby : This film is ideal for its length, beauty, and technical excellence!"
Kirsten | Rogue Cinema
Inspiration
As a DP, I bring my own lighting and framing sensibility to any film project.
Demo-reel
Presentation of my work as a director of photography of drama, documentaries and corporate videos.
Portfolio
The projects for which I have contributed as cinematographer or technician in the camera department.
International films festivals, feature and documentaries films
The job of a cinematographer does not stop only to participate in the shooting of a film. In the various life stages of a film presentation in front of a crowd  is a very important stage and film festivals offer a great opportunity to meet with fans from all walks of life.
I have created a highly qualified and passionated team in order to fully manage the camera department. My first AC, always by my side, gives me the possibility to fully perform under any ideal or non ideal  situation. Our expertises combined allow us to become an efficient duo under any cirscumstances; a powerful team upon which I can always rely on.

We also take care of the media management; a skill that we have perfected thanks to our recent high-end and high-speed data processing computer acquisition.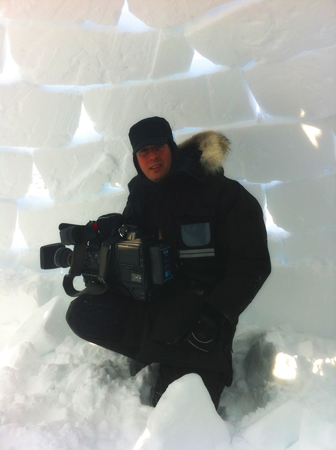 mailing list
Registrants in this mailing list, will receive a few times a year  information on the services offered and the new productions options  I got for my clients and friends.
Fiction
documentary films
advertising
New media content
Cinematographer | Based in Montreal Quebec Canada. Photographic management services for fiction, documentary, advertising and other, with the advantage of a broad range of equipment allowing me to cover almost all applications in the camera department, lighting and light support.
Technic and logistic for cinematographic project.
Cinematography | Post-production | Lighting | Gripping | Transport
To support productions which I am called to participate, in addition to a great experience, I have a significant amount of production equipment, from camera to the department post-production through lighting and various media.
Cinematographer based in Montreal Quebec Canada